Exterior Window Shutters for Your Home
Add curb appeal and beauty to the doors and windows around your home. Shutter Supply Source offers exciting exterior window shutters in many sizes, styles and colors. Simply select the type that is best for you. From custom pilasters to specialty raised panel shutters, you are sure to find the perfect accent for the outside of your home.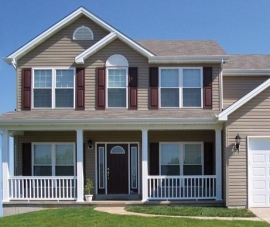 Add beauty to any home with our Exterior Window Shutters.
Take into consideration the color of your home, your roof and any exposed brick when you are making your decision about the style of exterior window shutters you choose. Also, if you have a fence or paved driveway, be sure the outdoor shutter color you choose works well with the materials and hues used in these features. It is also important to consider how the shade you choose will look in different lighting and throughout the seasons. You want the material and style of your window decorations to work well with the design and architecture of your home. This could greatly affect what material your exterior shutters should be constructed from. Sometimes, the easiest way to determine which look fits your style is to browse the houses in your neighborhood. This way, you can decide which style and colors you prefer based on what houses you favored.